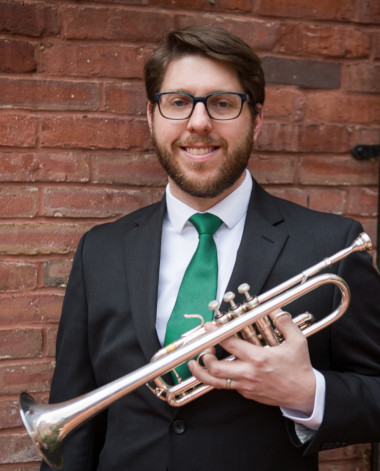 Dr. Ryan Noe is a freelance trumpeter throughout New England. Currently he holds the position of Principal Trumpet for the Glens Falls Symphony and is a founding member of the Andromeda Quintet. He has performed throughout New England with groups such as the Cape Ann Symphony, Cape Cod Symphony, Symphony Nova, New Bedford Symphony, Boston Chamber Orchestra, Phoenix,​ Boston Civic Symphony, Alea III: Contemporary Music Ensemble, Monadnock Wind Ensemble, New England Brass Band, Harvard Bach Society Orchestra, MetroWest Opera Company, Boston Opera Collaborative, and the Commonwealth Lyric Theater. In 2014, Maestro Lorin Maazel invited him to perform as a member of the Castleton Festival Orchestra in Castleton, Virginia.
As a recording artist he can be heard on Vivat Regina! The Choir of the Church of the Redeemer as trumpet soloist for Ralph Vaughn Williams' The Old Hundreth Psalm Tune and also the soundtrack to the Japanese crime show Connate Investigation, recorded by the Boston Chamber Orchestra. He also has recorded with the Berklee Silent Film Orchestra for the film Varieté and a DVD will of the film will soon be available. In 2014 Dr. Noe was a Semi-Finalist for the National Trumpet Competition Graduate Solo Division and in 2012 he was apart of the Boston University Trumpet Octet who performed as Semi-Finalists at the National Trumpet Competition in Fairfax, VA. In the summer of 2011 he performed as a pit orchestra musician for the Ohio Light Opera in Wooster, OH. Dr. Noe moved to Boston, MA in 2009 when he began his Master of Music degree from Boston University. He continued with his Doctor of Musical Arts at Boston University completing it in 2015. While at Boston University he has studied with Terry Everson, Thomas Siders, and Peter Chapman. Prior to moving to Boston, Dr. Noe lived in Kalamazoo, MI where he completed his Bachelor of Music degree from Western Michigan University. At WMU he studied with Professor Scott Thornburg and double majored in Trumpet Performance and Music Education. While living in Kalamazoo he was Principal Trumpet of the Kalamazoo Philharmonia. Also in the summers of 2007 and 2008 his Brass Quintet was selected to be the student artists in residence at the Bay View Music Festival in Bay View, MI. While at Bay View he also performed with the faculty brass quintet of the festival the Bay View Brass and the Bay View Symphony. Dr. Noe is originally from Plymouth, MI.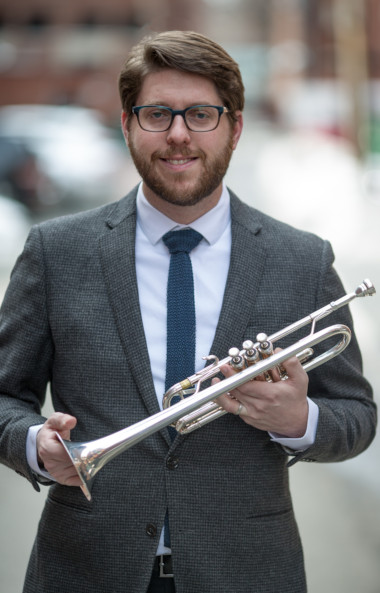 Dr. Noe is also an avid arranger for brass. In 2013 he arranged the Infernal Dance from Stravinsky's Firebird Suite, for 7 trumpets as the audition piece for the Boston University Trumpet Ensemble to the National Trumpet Competition. The arrangement was then performed as apart of Dr. Noe's Lecture Recital at Boston University titled "Finding a New Medium: Transcribing for the Trumpet Ensemble" and will soon be published by TREverson Music. Other arrangements include Minuet 1 from Bach's Cello Suite No. 1 and Prelude from Bach's Cello Suite No. 6, both for solo trumpet. Dr. Noe along with being an active performer and arranger is also an in demand brass pedagogue. Recently he has been appointed to the position of Adjunct Brass Instructor for Northern Essex Community College. He also has been the Adjunct Instructor of High Brass for Northeastern University since 2012. Dr. Noe also teaches privately for the Instrumental Music School of Concord-Carlisle, North Andover Public Schools, and Randolph Public Schools. Formerly, Dr. Noe was brass chamber music assistant and the non-music major trumpet instructor at Boston University. Other prior teaching positions include trumpet assistant for the Boston University Tanglewood Institute's Trumpet workshop, trumpet instructor for the West Bloomfield High School Marching Band(MI), the Vicksbug High School Marching Band(MI), the Edwardsburg High School Marching Band(MI), and the world Renowned Plymouth-Canton Educational Park Marching Band(MI). He has given masterclasses at Boston University Tanglewood Institute, Brookline High School, and Plymouth High School. His students have been accepted into the music programs of Boston University, University of Connecticut, University of Massachusetts-Amherst, Syracuse University, University of Maine, University of New Hampshire, Western Michigan University, and Southern New Hampshire University. They have also been awarded positions in the Northeastern District of Massachusetts Senior and Junior Band and Orchestra Festivals, Northeastern District of Massachusetts Junior Jazz Band Festival, Northeastern Massachusetts Youth Orchestra, Tufts Youth Philharmonic, and the Eastern District of Massachusetts Junior Band and Orchestra Festival.